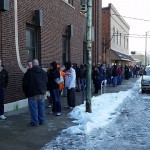 An employer new to the area got the response they were expecting and then some, in just the opening minutes of their job fair yesterday.
Cloverleaf Cold Storage held a job fair at the First Street Armoury in Monmouth for their plant opening in April. Jobs will start as soon as next month.
In less than an hour, 600 people attended to have questions answered and fill out applications.  That left Cloverleaf co-owner Adam Feiges pleased.
"I've been very, very pleasantly surprised at the amount of people that have, for example, forklift experience.  That's been nice to see," Feiges said.  "People are excited, and we are excited to be here."
Feiges tells WGIL people were somewhat interested in just finding out more about the company, but many more wanted to know things like about how shifts would work.
He says that's a little complex, only because Cloverleaf will have four 10-hour work days per week.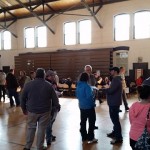 Blanche Shoup of the local Workforce Development Office tells WGIL the early turnout signified something very important.

"It shows that people recognize an opportunity, a new employer in town, jobs, and potentials for careers," Shoup said.  "We do know that there are folks living here, commuting elsewhere [for work].  This is an opportunity to look at coming back home, and not having to commute for jobs."

People like Diana Osterhagen of Monmouth.

"I'm looking for a good-paying job, insurance benefits, year-round work," Osterhagen said. "Right now, I'm laid off.  I work over in Galesburg at a pool and spa store.  But, I need something year-round, full-time, with some good wages and good benefits."

Applications will be accepted starting Tuesday at an office set up at the Monmouth AmericInn.

Tags: