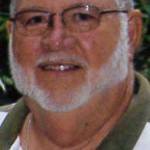 Charles "Chuck" R. Horton, 73 of Galesburg and formerly of Abingdon, passed away at 2:38 a.m. Saturday, June 27, 2015. 
He was born February 15, 1942 in Galesburg, the son of Emery E. and Lucille V. Carroll Horton.  He married Gail Gleave on September 4, 1965 in Abingdon.
Chuck is survived by his wife, Gail; two sons, Douglas (Gina) Horton of Galesburg and Robert (Andrea) Horton of San Mateo, California; four grandchildren, Jack, Mackenzie, Ben and Matthew; his sisters, Barbara Graham and Marilyn Horton both of Gulfport, Mississippi, Peggy (Bob) Sundell of Abingdon and Mary (Tom) Miller of Maquon; and several nieces and nephews and their families.
He was preceded in death by his parents and his brother, Ronald.
He grew up in Abingdon and graduated from Abingdon High School.  He served in the Army for three years and was stationed in Germany.  He worked in engineering at Admiral/Maytag for 39 years, retiring in 2001.  After retirement, he had a lawn mowing business and most recently worked in home renovations. He was of the Catholic Faith.  He was a member of the Abingdon and Galesburg American Legions and the Elks Lodge #894 in Galesburg. He had lived in Galesburg since 1992.
Visitation will be held from 4 p.m. to 6 p.m. Monday at the Hinchliff-Pearson-West Abingdon Chapel with the eulogy at 6 p.m.
Funeral Mass will be at 10 a.m. Tuesday, June 30, 2015 at Sacred Heart Catholic Church in Abingdon.  Father William Miller I.C. and Father Deus-Dedit Byabato will officiate.  Burial with military rites will be in the Abingdon Cemetery, with a celebration of life at the Elks Lodge in Galesburg at 12:30-2:00 p.m.
Memorials may be made to Elks Lodge #894, St. Vincent DePaul Society, Corpus Christi Catholic Church or Sacred Heart Catholic Church.  Online condolences may be made at www.h-p-w.com.