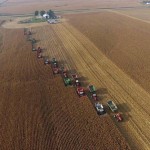 A message of generosity is being spread across the U.S., thanks to the kindness of neighbors in the small Henry County town of Galva.
Farmer Carl Bates was diagnosed with cancer near the end of last summer and now resides in hospice care. According to his cousin, Jason Bates, the sickness became too much for Carl to handle responsibilities in the field.
Last month, neighbors from all around the Galva area took on that responsibility and harvested the man's 450 acres in just over 10 hours.
On September 25th, 40 people lent a hand, bringing 10 combines, 15 grain carts, 14 semi trucks, food and more–all in the name of community.
The story has taken off, and Bates tells WGIL that it's a testament to the town.
"It seems to have been very inspirational for people around the country," says Bates. "I think it's meant a lot to people in Galva, being such a caring community for each other and to get that kind of recognition, or just the pride that comes with that. Especially with people who have moved away from Galva who were originally from here, sharing it on Facebook and saying how proud they were to be from here. That shows how tight-knit things really are."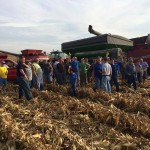 Bates says for the immediate family and for Carl, the experience has been humbling. He adds, "it just shows you why you live in places like this."

Tags: