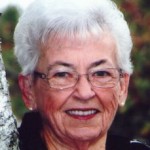 Alice "Jean" Main, 84, of Altona, died at 10:26 p.m. Friday, October 16, 2015, at home surrounded by her family.
She was born October 15, 1931 in Mercer County, the daughter of Frank and Zella Louise (Griffith) Cunningham. She married James Keith Main on February 11, 1951 at First Christian Church in Galesburg. He preceded her in death on June 5, 2008.
She is survived by her children, Stephen Main of Altona, Sharon (and Charlie) Spencer of Winchester, Virginia, Janice (and Dean) Steck of Laurel, Nebraska, Lisa Sopher of Oneida, and Peter (and Christi) Main of Altona; a son-in-law, Mark Larson of Woodhull, 12 grandchildren, Abigail Spencer of Dallas, Texas, Hannah (and Ben) Clark of Nashville, Tennessee, Luke (and Abigail) Spencer of Dallas, Craig (and Stephanie) Steck of Woodstock, Minnesota, Crystal (and Ryan) Dunklau of Wayne, Nebraska, Steven Larson of Altona, David Larson of Woodhull, Zachary (and Megan) Sopher of Lynn Center, Dana Sopher of Mahomet, and Tyler, Bethany, and Madelyn Main, all of Altona; five great grandchildren; and a sister, Virginia Dennis of Oneida. In addition to her husband, she was preceded in death by her parents; a daughter, Kate Larson; a son-in-law, Doug Sopher; a great grandson, Matthew Sopher; and two sisters, Faye Higgins and Shirley Hennenfent.
Jean graduated from Galesburg High School and attended Brown's Business College. She and her husband farmed west of Altona for 40 years before retiring and moving into Altona. In addition to helping her husband on the farm and raising and caring for her family, Jean worked for 12 years as a multi-township assessor and was a cook for 11 years at the Red Oak in Bishop Hill.
Jean was a member of the United Church of Altona, where she was active in the Women's Group. She was also active and past president of the Illinois Beef Auxiliary and served on the Illinois Beef Board in the 1990's. Jean enjoyed sewing, quilting, cooking, and gardening. Most of all, she enjoyed spending time with her family and friends.
Visitation will be 5 to 8 p.m. Thursday, October 22, 2015 at the United Church of Altona. Private family burial will be in Oneida Cemetery on Friday followed by a memorial service at the United Church of Altona at 11 a.m. Pastor David Pyell will officiate. Memorial contributions in Jean's name may be made to the United Church of Altona or a charity of the donor's choice. Hinchliff-Pearson-West Funeral Directors of Galesburg is handling arrangements. Online condolences may be made at www.h-p-w.com.