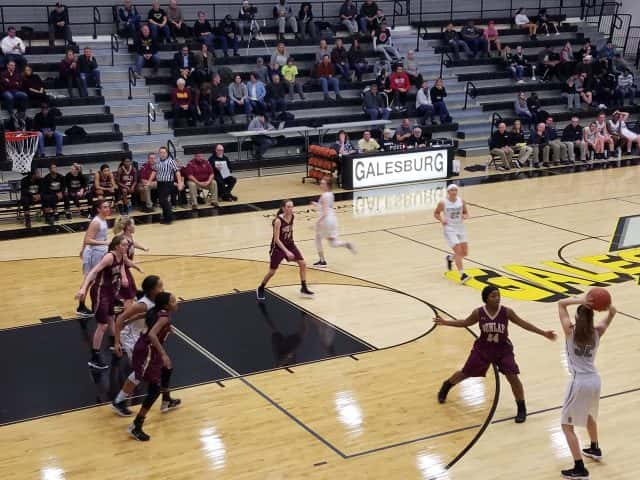 Despite hitting eight 3-pointers and out-rebounding Dunlap 42 – 20,  the Galesburg Silver Streaks girls basketball team came up short on the most important stat, the final score.  The Eagles won with a final of 58-51. GHS also turned the ball over 24 times to Dunlap's 6 times.
The Dave's Autobody Crunch-Time Player of the Game award went to Junior, Andrea Sampson. She had three 3-pointers in the first half  and a couple more in the 2nd half, but really keyed the Streaks in the 1st half. A total of 15 points, 4 rebounds, 2 shots blocked, and 5 of 6 from downtown. Other big scoring for the Streaks came from Kelsi Legge with 13 points and Yvonne Mixon with 8 points and 15 rebounds.
The Silver Streaks girls are now 9 – 10 on the season and play next this Thursday evening, January 11, at 6:30 PM, against Rock Island at John Thiel Gym. Tom Meredith and Erik Gibson will have the play-by-play beginning with the pregame at 6:06 PM on 93.7 FM, 1400 AM, and streaming live on wgil.com.
Missed the game? Listen to it in its entirety here:
 

Tags: