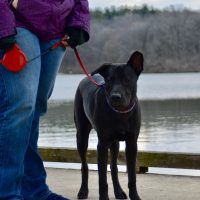 A teenager in Henry County has been found guilty of abusing a puppy last year and leaving it to die.
Henry County Circuit Court records indicate 17-year-old Damien Ingram — tried as an adult — was found guilty by a judge of Animal Torture and Aggravated Animal Cruelty.
Ingram — of Kewanee — was arrested in late-July after authorities found a pitbull-Labrador Retriever mix outside an apartment complex with multiple slash marks across his throat area.
Broadcast reports indicate during the morning-long bench trial Thursday, defense attorneys claimed the dog — now known as "Thor" — had mange, and that Ingram was just trying to put the dog out of his misery. But prosecutors believe the dog only had fleas — not mange.
Thor recovered from all his injuries and has been since adopted to a Kewanee resident.
Court records say Ingram is scheduled to be sentenced May eighth in Cambridge. The conviction and any sentence could still be appealed.
(TOP PHOTO: "Thor" today. BOTTOM PHOTO: "Thor" not long after the abuse took place. Photos from Henry County Humane Society — Kewanee, Illinois chapter.)