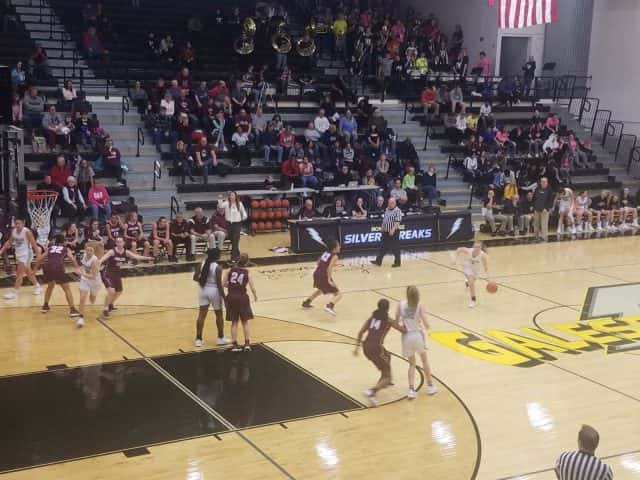 Here is Tom Meredith's recap of Thursday night's game:
The Galesburg Silver Streak Girls went into double overtime on Thursday night to defeat the Moline Maroons by a final score of 52 – 44. The Streaks did get outscored in the fourth quarter 12 to 11 and the game was tied at 39 at the end of regulation. At the end of the first overtime period the score was tied at 43. Galesburg then outscored Moline 9 to 1 in the second overtime period.
Neither team was shooting very well, the Streaks were 18 for 48 from the field and just 1 of 11 from behind the three-point line. The Maroons were 15 for 64 overall and just 1 of 18 from behind the three-point arch. The Streaks did get a big 3 pointer when it counted from Andrea Sampson.
Galesburg struggled from the free-throw line especially early in the game. They were just 3 for 12 in the first half. They ended up 15 of 26 overall but they did hit 7 of 8 free throws in the second overtime and made them when it counted.
Daija Range had 10 points, 12 rebounds and 3 steals. She was our Dave's Auto Body Crunch Time Player of the Game. Riley Jenkins scored 14 points she also had 7 rebounds, 5 assists, 3 steals and 2 blocks.   Chloe McCarthy took home 13 points for the night as well as 9 rebounds.
The Galesburg Girls are now 7 an 4 overall and also 2nd place with a record of 3 and 1 in Western Big 6 Conference play . Moline Drops to 2-2 in the conference and 6-5 overall.
Did you miss the Game??? You can listen to the entire thing right here!!!
 

You can also find WGIL on TuneIn on the web, Android, or iPhone

Tags: