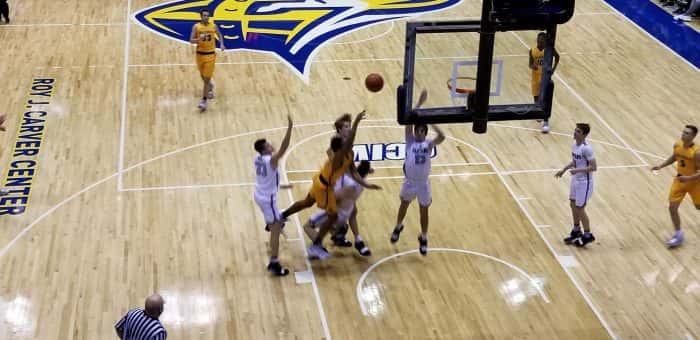 Here is a recap of  the game from WGIL's, Brad Bennewitz:
The Pleasant Valley Spartans were the team that controlled the tempo, and as a result, got the outcome they were looking for at the Iowa/Illinois Shootout in a 59-43 win over the Galesburg boys basketball team.
The Streaks got only ten turnovers, but could force only seven on behalf of the Spartans. The Spartans shot pretty well, kept the game slow, and ended up winning this game for the third time in four meetings against the Streaks all-time in the Iowa/Illinois Shootout.
Jaylin McCants was our Dave's Autobody Crunch-Time Player of the Game. He led the Streaks with 13 points and 10 rebounds, and really was the go-to guy in the second half as the Streaks kept pounding it inside, kept giving it to Jaylin, saying 'go in and do your work', but just not enough of it to get it done. Keith Cunningham did also finish with a double-double, 11 points and 10 rebounds.
But it's Pleasant Valley that improves on the season, 5-1, and the Streaks drop to 6-3.
Galesburg Sophomores did win in the Sophomore version of the Iowa/Illinois Shootout. They defeated Pleasant Valley, 46-40.
Next up for the Galesburg boys will be at Rock Falls for a non-conference game Saturday night, 12/22, before taking a short break and then heading back to Taylorville for their annual visit in the Holiday Tournament there.
Missed the game? Listen to it in its entirety here:
Tags: