Here is a recap of the game from WGIL's Brad Bennewitz:
It was a great start for the Galesburg High School Boys Basketball team at the Taylorville tournament with a 64 – 31 win over Rochester. The game was tied in the first quarter when the Streaks scored 9 in a row. The Streaks held the lead for the rest of the game but it was the run late in the second quarter and early third quarter when the Streaks scored 21 consecutive points to open into a 27 point lead and eventually to the victory at 64- 31.
Keith Cunningham was our Dave's Auto Body Crunch Time Player of the Game; he ended up finishing the game with 21 points and 11 rebounds and was a huge part of the second half run. Jaylin McCants was also in the double figures with 14 points and 9 rebounds.
The Streaks move to 7 and 4 on the season Rochester drops to 3 and 6. Galesburg now takes on Dunlap in the second game of the Taylorville tournament with pre-game starting at 8:30 A.M. Friday morning on 93.7 FM and 1400 AM WGIL and WGIL.com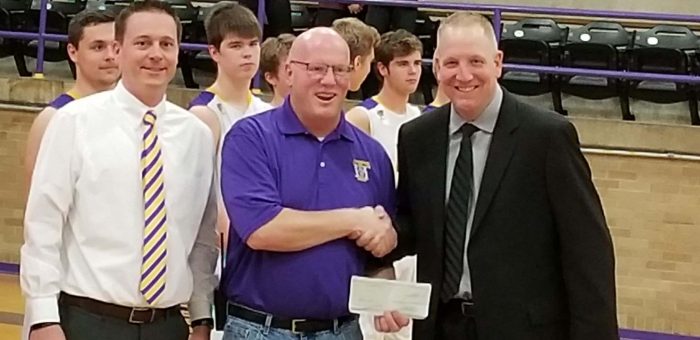 Taylorville coach Ryan Brown and Athletic Director Paul Held accept a check of $777 from Streaks head coach Mike Reynolds for the Taylorville tornado relief fund. The money was collected from fans attending the GHS game against United Township at Thiel Gym on December 7th.
Did you miss the game??? You can listen to it here!!!
 

You can also find WGIL on TuneIn on the web, Android, or iPhone

Tags: