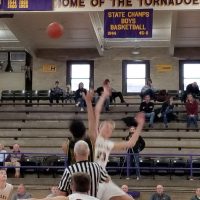 The Galesburg Silver Streaks Boys Basketball team got their second win in the Taylorville Holiday Tournament, with a 74-47 victory over the Dunlap Eagles Friday morning.
It was a game in which the third quarter made all the difference.  The Streaks had a modest eight-point lead at halftime, and the lead was nine with just under five minutes to play in the third quarter.  Mike Reynolds called a time out in the third quarter; and from that point on then the Streaks went on a 17-3 run, and took control of the game for their eighth win of the season.
The Streaks forced 27 Dunlap turnovers, which was the statistic that jumps out in terms of what determined the outcome of this game.
Keith Cunningham led the Streaks in scoring with 21, Jaylin McCants had 11.  And, both led the Streaks with seven rebounds.  Mitchell Sampson was our Dave's Autobody Crunch Time Player of the Game.  He was a key part of that third quarter run — starting the second half with Eric Price in foul trouble — and Sampson had five of his seven points in that third quarter run, including a big three-pointer, which really opened things up for Galesburg.
The Streaks now take on Sterling in the final game of pool play in the Taylorville tournament.  7:00pm Friday is the scheduled tip-off.  You can hear the game starting at 6:40pm Friday on WGIL, WGIL.com, and WGIL on the TuneIn Radio App.
Missed the game?  Listen to it in its entirety here!