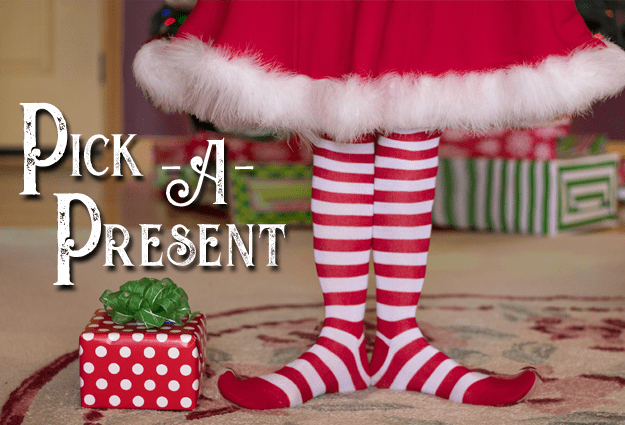 Listen for opportunities to call in and play Pick-A-Present on 93.7 FM or 1400 AM WGIL! There will be chances to play each weekday during Galesburg's Morning News (5am – 9am) and Galesburg's Evening News (5pm – 6pm) on WGIL.
When you hear the invitation to play, call (309) 342-9194.
When you're the 5th caller at that time, you will pick two available numbers from the Pick-A-Present game board below. If the presents behind those numbers match, you win that present!
As the presents are matched and given away, those numbered presents are removed from the game board.
If you would like to print a tracking sheet for the game board, please click here.
There's a full list of the presents available to win below the game board. Keep in mind that for some of the presents, there may be more than one available to win!
Weekly clues are emailed on Sunday evenings revealing which number some of the presents are on the game board. If you'd like to receive those emails, you can sign-up by clicking here.
If you'd like to keep track of the game board at home, you can open and print a pdf of it HERE
Must be at least 18 years old to play and win. Maximum of one win per person and one winner per household.
WGIL Pick-A-Present Prize List
Melton's Jewelers in Galesburg
Sparkling Diamond Necklace
Mannhardt's Furniture in Knoxville
Youth Rocking Chair from Hinkle Chair Company (Black Matte Finish)
6140Run! in Galesburg
Gift certificate for a pair of shoes
Merle Norman Cosmetics in Galesburg
$50 Gift Certificate
Kohl's Diamond Gallery in Galesburg
$100 Gift Certificate
Maude Specklebelly's in Monmouth
$50 Gift Certificate
Culver's in Galesburg
$50 Gift Certificate
Mattress Station
Queen Size Tempur-Breeze Tempurpedic Pillow
Stray Cat Art in Galesburg
$50 Gift Certificate
Dave's Autobody in Galesburg
– Detail For Life
– Total Detail
– Super Wash & Wax
Music Makers in Galesburg
LG 55-Inch OLED TV
Personally Yours Creations in Galesburg
– 24 inch x 24 inch wooden sign that can be personalized
– $50 Gift Certificate
Brighter Life Bookshoppe in Galesburg
conic Vera Bradley Tote
The Strength Collective in Galesburg
One Year Membership
Big Catz Barbecue of Knoxville
$50 Gift Certificate
Birkey's Farm Store in Galesburg
Ertl 1/16 Die-Cast Magnum 380 CVT Case Tractor (Prestige Collections)
Knox Co. Pork Producers
$100 Gift Certificate for Pork Products at Thrushwood Farms in Galesburg
Black Crowe Candle Company and Crow Hollow Boutique
$50 Gift Card
For some of the presents, there is more than one available to win!