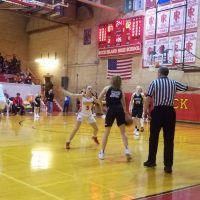 The Galesburg Silver Streaks drop to 15-8 on the season, and 4-2 in the Western Big 6, after a 51-31 loss to the  Rock Island Rocks, who are now 18-1 , and 6-0 in the WB6.
It was close at the end of the first quarter, with the Streaks trailing 9-6, and neither team shot the ball well early.  But, the Rocks started to heat up in the second quarter, as they out-scored the Streaks 18-7, and lead 27-13 heading into the second half.  Another good third quarter for the Rocks, as the outscored the Streaks 14-7, leading 41-20 heading into the final quarter.  The Streaks outscored the Rocks 11-10 in the fourth quarter.  The Streaks couldn't get much going offensively, turning the ball over 17 times to 12 for the Rocks.  The Streaks were just 10 for 43 from the field, for 23 percent.  The Rocks were 20 for 48, equaling 41 percent.  The Streaks were one for nine from the three-point arc.
Lexi Tucker came off the bench to lead the Streaks in scoring with seven points.  She also had three rebounds, and three blocked shots, and was our Dave's Autobody Crunch Time Co-Players of the Game along with Daija Range, who had five points but dominated on the glass with 11 rebounds — seven of those on the offensive side.
The GHS Sophomores also lost to Rock Island, 46-29.
The Streaks girls play Friday night against Morton in the Downstate Classic Tournament — in a game you can hear starting at 6:40pm with the pregame, and tipoff at 7pm, on WGIL, WGIL.com, and WGIL on the TuneIn Radio app.
 Miss the game? Catch it in its entirety here!
 

Tags: