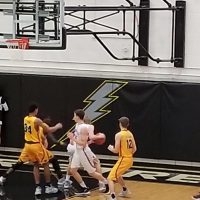 The Galesburg Silver Streaks Boys Basketball team used a scoring run in three different times of the game in knocking off  the Dunlap Eagles 66-48 in the first game Monday of the Martin Luther King Shootout at John Thiel Gymnasium.
The last run came in the fourth quarter. Dunlap trailed by nine, and had the ball, but the Streaks forced a turnover and a dunk by Jaylin McCants at the other end sparked a 9-0 run, and Galesburg built that 18-point lead and secured it for their 12th victory of the season.
McCants was our Dave's Autobody Crunch Time Player of the Game for his big play in the first two-and-a-half minutes of the fourth quarter. He had 10 points in the period, finished with 22 in the game, and a season-high 14 rebounds. Eric Price came off the bench to knock down four three-pointers, and had his career high with 25, to go along with seven rebounds. Keith Cunningham also finished in double figures with ten points and seven rebounds for the Streaks. Those three players alone helped Galesburg out-rebound Dunlap 33-17 in the game.
The Silver Streaks are now 12-8 on the season. They'll take on Danville in the final game of the King Shootout Monday at 6pm. The Vikings come in ranked fifth in Class 4A. You can hear the game starting at 5:40pm Monday on WGIL and WGIL.com.
Miss the game?  Listen to it, in its entirety, here!