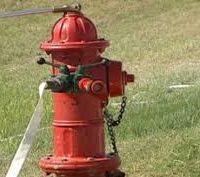 UPDATE: The fire hydrant flushing and testing program has been postponed until a later date.
ORIGINAL STORY: The City of Galesburg Water Division in conjunction with the Galesburg Fire Department will begin the annual fire hydrant flushing and testing program on Monday, May 6th.
Hydrant testing will occur Monday through Friday from 8 a.m. to 4 p.m., weather permitting. The first area to be tested will be the northwest quadrant of the City – from the square west and head west on West Main Street to Henderson Street, then North on Henderson Street. General hydrant flushing locations will be posted daily on the City's website. Fire Department personnel will incorporate a method of cleaning water mains through a network of flushing sequences with the water being discharged from the largest port on a fire hydrant. This system will ensure the greatest quality of water throughout the entire system. This method will also reduce bacterial growth, restore disinfection residuals, control corrosion and can help restore flow and pressures in the distribution system. There are approximately 1,400 public hydrants and 200 private hydrants tested and maintained in the city by the Fire Department. There may be a slight drop in pressure or a presence of discoloration from the minerals and sediment that are being flushed out of the system. Service should not be disrupted during the flushing process. Use caution while traveling around the firefighters while entering areas of water accumulation during this program. The annual process takes about six to eight weeks to complete.