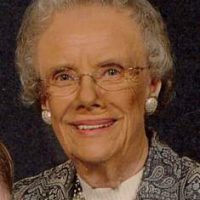 Mrs. Eva L. Pearson, 94, of Galesburg, died at 10:24 p.m. Sunday, May 5, 2019 at Seminary Manor.
She was born on April 30, 1925, in Galesburg, to F. Everett and Bessie Whissen Olin. She married Richard E. Pearson in Galesburg on September 18, 1949. He preceded her in death on March 5, 2015.
Eva is survived by two sons, David R. (and Laurie) Pearson and Steven E. Pearson (and Vickie Goble), both of Galesburg; two granddaughters, Erin E. (and Jared) Surratt of East Peoria and Lauryn Pearson of Chicago; and a great-granddaughter, Addison Surratt.
Eva was a homemaker. She also worked for the Walter Peck Magazine Agency and the Lucille West Insurance Agency. She was a 1943 graduate of Galesburg High School. She was a member of First Lutheran Church, the Home Culture Club, the Violet Chapter of the Order of Eastern Star, where she was a Past Matron, and the Daughters of the American Revolution.
Funeral services will be 10 a.m. Saturday May 11, 2019 at the Hinchliff-Pearson-West Funeral Directors and Cremation Services Galesburg Chapel with Rev. Pamela Marolla officiating. Visitation will be from 9 to 10 a.m. Saturday at the chapel. Burial will be in Memorial Park Cemetery. Memorials may be made to First Lutheran Church or the Galesburg Community Foundation. Online condolences may be made at www.h-p-w.com.