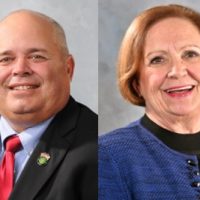 As Illinois taxpayers were observing Memorial Day on Monday, largely Democrat members of the House of Representatives voted 73-44 to put the question to voters on whether Illinois should change to a graduated income tax system.
The 44-member House Republican Caucus stood united in opposition.
Every Republican in the Chamber spoke during debate, which lasted a marathon 3 hours plus.
Republican State Representative Dan Swanson of Alpha took his turn.
"We talk about the will of the people, something I'm reminded of quite frequently of from the independent business people, farmers, the families, and those members back in my district is, 'I did not give you a blank check, and that rings very loud and clear here today, that potentially what we're giving here is a blank check," Swanson says.
Republican State Representative Norine Hammond of Macomb added during debate that "with these changes, the number of taxpayers who would have seen a tax cut has gone down, and the number of taxpayers who will pay more has gone up."
She added that the national trends point away from a graduated income tax, and once again she said, "Illinois has it backward."