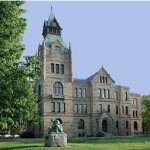 Knox County Treasurer Robin Davis says that property tax bills will soon be on the way.
Her office is in the process of preparing bills for mailing and once a mailing date has been set, they make a due date publicly known.
But don't worry that about a time crunch to get your payment submitted.
Illinois statute says the first due date for property tax bills must be at least 30 days after the bills are mailed.
Preparing the bills is a three-step process, that starts in the assessor's office, before going to the county clerk and finally landing in the Treasurer's Office.
Davis told the members of County Board's finance committee in April that it was likely bills would be mailed late, saying that Supervisor of Assessments Chris Gray has had to spend an extraordinary amount of time on proposed solar projects.