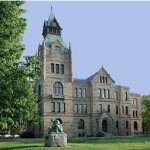 Two 9th Judicial Circuit Judges, that currently preside in Knox County, have not been retained on the bench by a vote of state circuit judges.
Associate Judges Anthony Vaupel and Patricia Walton will continue to serve on the bench until the end of June.
Both failed to gather the 3/5 or greater of the 480 state circuit judges needed to be retained.
Associate judges are appointed and retained by fellow judges and are at-large seats within a particular circuit's counties, which for the 9th Circuit are Knox, Warren, Henderson, Hancock, Fulton, and McDonough counties.
Walton first was appointed to the bench in 1994, most recently being reappointed in 2011 and 2015.
She worked in private practice from '89 to '94, and during her tenure on the bench was assigned to all six counties in the circuit.
Vaupel was first appointed to a full judgeship in 2015 following the retirement of James B. Stewart.
He elected not to seek retention in the seat but was then appointed as an Associate in 2017.
Prior to sitting on the bench, he worked out of the Barash and Everett law offices as a trial attorney.
Chief Judge of the David Vancil tells The Register-Mail this is the first time since 1979 that a 9th Circuit Associate Judge has not been retained.
These reappointment denials have no direct effect on who will fill Judge Paul Mangieri's seat when he retires in July.