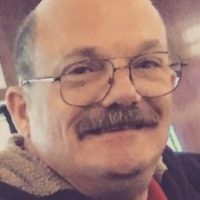 Mr. David L Cooper, 57, of Galesburg died at 9:15 a.m. Thursday, June 21, 2019,at home.
David was born in Monmouth on February 6, 1962, to William R., Sr and Eula M. (Rohr) Cooper. He is survived by his daughters, Tammi Cooper of Peoria, Illinois, Kathy Cooper of Atwood, Illinois, and Leigh Cooper of Macomb, Illinois; his mother, Eula Cooper of Galesburg; three brothers, William R. Cooper Jr. of Galesburg, Marvin (Laura) Cooper of Monmouth, and Jeffrey Cooper of Galesburg; and two sisters, Kathy Lockwood of Galesburg and Julie Cooper of San Diego, California. Also, surviving is his grandchildren, Braxton, Braydon, and Milah, as well as his nieces, Melissa, Jenny, Cassandra, Tilliea, and Katie; and one nephew, Jason. He is preceded in death by his father, William R. Cooper Sr. and his brother-in-law, Kenneth M. Lockwood.
David was raised and educated in Monmouth, graduating from Monmouth High School in 1980. He then enlisted into the U.S. Navy and served his country for 12 years until his honorable discharge with an ending rank of E5. Upon returning home, David raised a family and worked for Butler Manufacturing for many years. David moved to Galesburg in 2013. He was a Chicago fan, he cheered for the Chicago Cubs and Bears. David enjoyed going fishing, reading a good book, and spending time with his family—especially his dear daughters and younger brother, Jeff.
Cremation has been accorded. Memorial services are will be 10 a.m., Wednesday, June 26, 2019, at Hinchliff-Pearson-West Funeral Directors and Cremation Services Galesburg Chapel. Rev. James Ecklund will officiate. There will be no visitation. Burial will be at Rock Island National Cemetery with military rites. Memorial contributions may be made to the Wounded Warrior Project. Online condolences may be made at www.h-p-w.com.