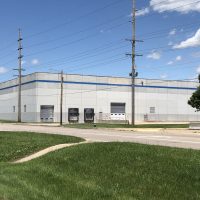 A Wisconsin-based real estate investment firm has bought three closed Illinois properties with the intent of reviving them — and one of them is the former Galesburg Maytag Plant.
Phoenix Investors says in a news release that affiliates of the firm have purchased the former Maytag plant — along with a former Borg Warner plant in Decatur.
The Galesburg purchase includes the South Linwood  Road facility, which is currently leased to some national and regional companies, and the properties at 1801 Monmouth Boulevard, which the firm says could become ideal for multi-tenant occupancy.
Knox County Area Partnership for Economic Development president Ken Springer says in the Phoenix Investors news release they'll be working with the firm to market the properties and find new users.
The Galesburg Maytag Plant closed in 2004, putting 1,600 people out of work.
This is a developing story.  Check back for updates, and tune in to 93.7 FM & 1400 AM WGIL.