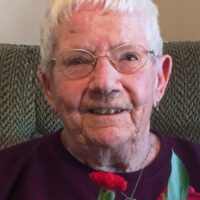 Mrs. Leah E. Chapman, 92, of Galesburg, Illinois died 7:20 a.m. Saturday, June 29, 2019 at Seminary Manor in Galesburg. She was born July 26, 1926 in Zebulon, North Carolina to Herman A. and Iola Bruce (Buck) Moore.  She married Morris E. Chapman August 4, 1945 in Raleigh, North Carolina.  He preceded her in death August 6, 2009.
Surviving is a son, John (and Rosemary) Chapman of Galesburg, two daughters, Connie (and Dennis) Shafer of Hot Springs Village, Arkansas and Julia (and Mike) Seastedt of Galesburg, a sister, Julia L. DelPrince of Buffalo, New York, 9 grandchildren, 21 great grandchildren and 7 great-great grandchildren.  She was preceded in death by her parents, a grandson, John W. Chapman and a brother, Hugh A. Moore.
Leah graduated from Raleigh High School, Raleigh, North Carolina.  She was a secretary at the Pentagon in Virginia after high school.  She later was a secretary for Galesburg School District #205 in audio/visual for 27 years and retired in 1982.  She was a member of Immaculate Heart of Mary Catholic Church in Galesburg.  Leah was an avid golfer and bowler and was a member of several area leagues.
Funeral Service will be 10:00 a.m. Friday, July 5, 2019 at Immaculate Heart of Mary Catholic Church in Galesburg.  Father William Miller will officiate.  Burial will be in St. Joseph Cemetery, Galesburg.  Visitation will be 4:00 to 6:00 p.m. Thursday, July 4, 2019 at Hinchliff-Pearson-West Funeral Directors and Cremation Service Galesburg Chapel.  Memorials in Leah's name may be made to St. Jude Children's Hospital or John W. Chapman Heart Fund at Genesis Heart Institute.  Online condolences may be made at www.h-p-w.com.