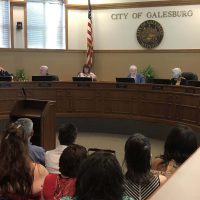 Galesburg Aldermen Monday night approved a new law firm to conduct a review of city procedures for handling harassment and discrimination complaints.
James M. Kelly law firm out of Peoria, who the city has had a relationship with in the past, was hired to do the work after an unwaived conflict of interest prevented the previously hired Heyl Royster firm from completing the work.
Former Alderwoman Angela Bastian spoke at the meeting to protest Kelly's hiring.
She says a conflict exists with James Kelly since his firm represented former HR Director David Jones when he was successfully sued by a city employee for discrimination.
Bastian claimed to have a list of 40-50 names of city employees that would refuse to cooperate with the investigation if Kelly was to be hired.
She said she would not provide that list to the council.
Alderwoman Corine Andersen says she decided to support Kelly's hiring in the interest of getting the investigation finished in a quick and cost-effective way.
"This investigation is going to talk to people, and if they're not willing to talk I'm not sure where the onus sits but they need to come forward," Andersen says.
Mayor John Pritchard estimated an additional $25,000 cost if the city had to search and vet a new firm.