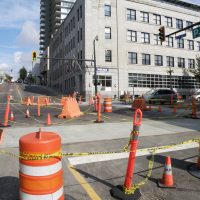 Galesburg City Council on Monday night approved bids to reconstruct Monroe Street from North to Losey Street.
The existing street base along with concrete curb and gutter will be removed and replaced with a full-depth concrete pavement, as well as curb and gutter.
The contract also includes Gunther constructing all new concrete driveway approaches from the street to the back of the sidewalk.
Sidewalks will be replaced as well.
Gunther's bid came in under budgeted costs with a $1.1 million project total; $262,000 for water main work and $849,000 for roadway work.
Any existing brick on the street will be harvested and placed in the city's brick storage yard, although Gunther submitted a bid to receive a $39,000 credit if they weren't required to salvage the bricks.
The roadway work is being funded by money that was returned to the city after Illinois' Revolving Loan Program was ended.
Gunther will have 55 working days to complete the project.