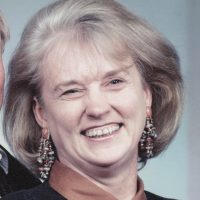 Mrs. Marjorie A. Krull, 78, of Galesburg passed peacefully surrounded by her family after a brief battle with Leukemia at 11:33 a.m., Thursday, July 18, 2019 at OSF St. Francis Medical Center, Peoria. Her warm, sweet, generous spirit will be dearly missed by her husband, Don, of 57 years, her family; and friends alike.
She was born September 27, 1940 in Chicago and was adopted by her loving parents Jerry Potter and Carrie Potter of Pontiac, Illinois. Marge married Donald Raymond Krull on June 10th, 1962 at The First Presbyterian Church in her hometown Pontiac, Illinois.
Marge is survived by her loving husband of 57 years, Don, of Galesburg; two sons Donald Scott (Julie) Krull of Davidson, North Carolina; and Stephen (Beth) Krull of Maumee, Ohio; and five grandchildren Alexander (Gunjan Malhotra) Krull, Jessica (Richard) Day, Kelsey (Lucas) Rhodenbaugh, Emily Krull and Peter Krull. Also surviving his her beloved neice Stephanie (Tony) Cepak and two great nieces Morgan Cepak and Emerson Cepak.
She is preceded in death by her parents and her sister Alice Korneffel.
Marge was raised and educated in Pontiac, graduating from Pontiac Township High School in 1958.  She then moved to Peoria where she attended Brown Business School and worked as a secretary at The Trane Company as well as a fashion model. Marge worked as a tour guide, at the Peoria Journal Star Newspaper and Sentimental Journey. She served as the President of the Northern Tazwell Baseball Association and President of Caterpillar Engineer's Wives Club. Marge had a pivotal role in the start-up of Porsche Aviation, a division of Porsche of Germany while living in Stuttgart, Germany and Galesburg simultaneously. She was a member of the Messiah Lutheran Church. Marge was the heart of the Krull family. Her most cherished memories included holding her sons after birth, watching her five "little angel" grandchildren grow into interesting adults, and being on the road with Don in their Model T's. She was an energetic, indulgent and much-adored Grammy.
Visitation will be from 5 p.m. to 7 p.m., Monday, July 22, 2019 at Hinchliff-Pearson-West Funeral Directors and Cremation Services, Galesburg Chapel. Funeral services will be 9:30 a.m., Tuesday, July 22, 2019 at Messiah Lutheran Church. Pastor Kurt Carlsen will officiate. Burial will be at Henderson Grove Cemetery. Memorials may be given to Messiah Lutheran Church in Memory of Marjorie A. Krull. Online condolences may be made at www.h-p-w.com.