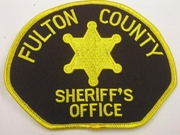 The Fulton County Coroner has identified the man who drowned in Rice Lake over the weekend as 44-year-old Charles M. Smith Jr. of Cuba, Illinois.
The Copperas Creek Fire Protection District were first called to the lake southeast of Canton Saturday afternoon for a report of a person in the water on a day of blistering heat.
Smith's body was found Sunday morning after multiple crews searched the area via land, water, and air for a day.
He was one of two people kayaking when waves caused them to capsize.
Smith was not wearing a life jacket although apparently there were two on board the kayak.
Fulton County Coroner tells the Peoria Journal Star that an autopsy has been performed in Peoria but results are not yet available.