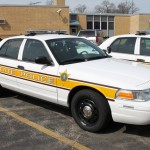 UPDATE 8/1/19:
The Illinois State Police have released the name of the individual killed on I-74.
Police say that 36-year-old Christopher C. Andrus of Rock Island was struck and killed by two semis Wednesday near Colona when he walked out in front of traffic.
The case remains under investigation.
WQAD-TV reports that Andrus was until July the Director of Operations for Bettendorf Community School District in Iowa.
---
ORIGINAL STORY:

An unnamed individual was killed on I-74 in Henry County Wednesday morning when they walked in front of oncoming traffic.

Truck tractors with semi-trailers were being driven by out of state men, traveling west on I-74 at around 8:30 a.m. Wednesday, when both moved to the left lane to give way to the stopped vehicle on the right shoulder.

A pedestrian emerged from the front of the vehicle and crossed the right lane into the left where both trucks were unable to stop in time and struck the person.

The pedestrian was pronounced dead at the scene.

That part of the interstate was closed until just before 2 p.m. Wednesday.

ISP was on scene along with Henry County authorities and Colona and Osco fire departments.

No charges are pending at this time.

Tags: