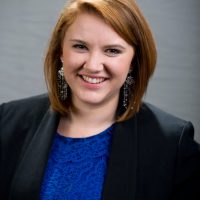 Jessica Linder announced her impending resignation as Executive Director of the Galesburg Area Chamber of Commerce Tuesday, almost exactly three years after she took the job.
Linder announced her resignation to the Chamber board today and then sent an email to other members, which WGIL was included in.
Linder's last day on the job will Aug. 27.
She says she is moving on to "pursue another opportunity in the Chamber world."
A native of Morton, Illinois, Linder was hired in 2016 after the Chamber went over a year without a Director, after the firing of Steven Brody for undisclosed reasons.
Chamber Chairman Chris Bayer says that the board is sad to see Linder leave but are proud of her accomplishments.
He says her three years has brought increased value to membership in the organization.
He says that the Board will conduct a thorough search to find the right person to lead the organization going forward.
A few of the highlights of Linder's time with the Chamber include starting the Galesburg Express Christmas Festival, helping organize the One State Together in the Arts conference and efforts to keep young talent in the area.
Linder will be speaking to WGIL's Will Stevenson at 5:10 p.m. Thursday on Galesburg's Evening News on 93.7FM and 1400 AM WGIL.