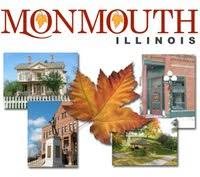 The City of Monmouth is looking to revitalize its public square.
In 2017 the city had applied for a grant through the Illinois Department of Transportation for a grant that would fund work on the city's square but was ultimately denied.
City Manager Lew Steinbrecher tells WGIL that the city was unsuccessful in getting it awarded — in part because some of the preliminary work had not been completed.
"That grant was unsuccessful and it was primarily because we had not yet completed the phase one engineering."
Steinbrecher says this time around, the city is getting their preliminary work done ahead of time.
"We had to go through a phase one preliminary engineering design process, which includes public involvement processes — which we completed through the establishment of a citizen advisory committee then we had an open public meeting on the designs."
He said that the city held four public meetings regarding the square's design.
Steinbrecher adds that the window for the grant application closes on December 6th and the city will know by Spring of 2020 if they've been awarded the money.
Phase two would be prepping bid specs and construction would start around Spring of 2021.
Steinbrecher also says that the city is looking to get the funding this time around but first must do some preliminary work that wasn't done in 2017 — the reason their application was denied then.
Steinbrecher tells WGIL that the first phase of the project was completed and presented to the city council on Monday night.
"It was well received by the city council. The city council subsequently passed a resolution that not only approved the design concepts that were included in those schematics but that also authorized the preparation and submittal of an ITEP (Illinois Transportation Enhancement Program) grant application to the Department of Transportation."
Steinbrecher says that the budget for the project is $1.2 million dollars and the grant is for $1 million, leaving the city on the hook for paying around $200,000.
The improvements include:
additional green space
additional parking
sidewalk space to create and accommodate outdoor activities
traffic calming features to improve pedestrian safety
rainwater gardens to assist in mandated Environmental Protection Agency regulations
a boulevard to accommodate the reduction of two lanes to one lane
Tags: