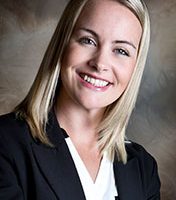 Knox County has filled an Assistant State's Attorney role that was left vacant when Andrew Stuckart departed for Warren County in July.
Galesburg attorney Ashley Worby started on Monday.
Worby has practiced primarily family law with the office of Statham and Long since 2014 and narrowly lost a race to be Galesburg Ward 7 Alderman in April.
Her new job allows her to get back to what she says made her want to be an attorney in the first place.
She says she hates feeling like a cliche but remembers watching the TV show "Cops" as a small child and has had an interest in true crime since.
With a passion for public service Worby says as a prosecutor, she wants to be a part of the solution.
"I'm really big on trying to rehabilitate people and certainly looking at trying to help people before you punish them and throw them in prison," Worby says.
Of course, Worby was familiar with the role of an Assistant State's Attorney but says she's finding out about the fast-paced nature of the job and has hit the ground running.
Her first day on the job at 9 a.m. handling pretrial conferences for any cases that could go to trial this month.
"I was like what's next in my career? What are my goals, where am I going, what am I going to do, what's going to make me happy. I love practicing criminal law. Always have. And generally just managed it better. I don't know what it is but it doesn't affect me emotionally like the family law stuff did."
She says First ASA Brian Kerr has been helpful in getting her acclimated.