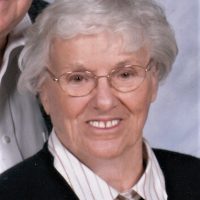 Betty Lou (Clark) Holt, aged 90, of Oneida left this life in the company of angels on Sunday, August 11, 2019. Married to Eugene "Pete" Holt since January 4, 1951, she was the proud matriarch of a beautiful family. Betty Lou is survived by her husband; five children: Gary (Marilyn) Holt of Rio; Margaret Holt Karbeling (Bob Belosky) of Clive, Iowa; Barbara Snyder (Daniel) of Indianapolis, Indiana; Michael (Kathleen) Holt of Woodhull; Betsy Holt (Desmond Nicotera) of Littleton, Colorado; as well as a sister, Patty Fritz of Galesburg; twelve grandchildren, their spouses; and seven great-grandchildren. She was preceded in death by her parents; a sister, Peggy Huff; a brother, EE Clark, Jr.; and a son-in-law, Jerry Karbeling. Betty Lou had an active life guided by her faith and the practice of the Golden Rule. She left her career aspirations with Northwest Airlines to become a farmer's wife. She was the proprietor of Betty Lou's Beauty Shop for 10 years and worked at many other positions as well as being an avid crafter; baker of apple strudels and Swedish rye bread; Cub Scout leader, Home Extension member, Mary Martha Women's Group member (Immanuel Lutheran Church Altona), Sunday School teacher (Ontario Congregational Church) and traveler.   She worked tirelessly for the many other causes she supported. Her true joy was her family. Pete was the love of her life and their devotion to each other shaped their world. Her grandchildren and great-grandchildren brought her immense joy. Each of her grandchildren, at age 5, were treated to a train-trip-to-Chicago adventure to see The Nutcracker on stage. To their great delight, innumerable other Betty-Lou-created adventures, lessons, treats, and shenanigans followed. Betty Lou left us with many happy memories, life lessons, examples, and inspirations. She will be greatly missed by all who knew and loved her.
Funeral services will be held at Immanuel Lutheran Church in Altona at 12 noon Saturday, August 17.   A visitation will precede the service, beginning at 10:30 a.m. at the church. The private interment will be at Ontario Cemetery later in the day.
In lieu of flowers, memorial contributions can be made to the Women's Pregnancy Center in Galesburg or to Immanuel Lutheran Church. Online condolences and expressions of sympathy may be made through www.hurd-hendricksfuneralhome.com.