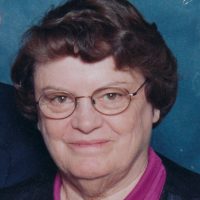 Jan Strickland, 84, loving wife to James R. Strickland, peacefully went to heaven on August 13, 2019, in her home in Woodhull, IL. A memorial service will be held at the United Church of Woodhull on Saturday, August 17,2019 at 2:00 pm.  Friends may greet the family from 12:00 pm to 2:00 pm prior to services Saturday at the church. In lieu of flowers, memorials may be left to The United Church of Woodhull.  Online condolences can be made at www.petersonwallinknox.com.
Jan was born in Oak Park,IL, on May 8, 1935, the daughter of John Donald "J.D." and Maurine Brown. Jan graduated from Gardner High School, and attended Blackburn College in Carlinville, IL, where she met her husband Jim. She received a B.A.in social work from Michigan State University and a masters in guidance and counseling from Illinois State University.
Jan worked as a guidance counselor at several high schools in Illinois including Paw Paw, Franklin Grove, Lee Center, and Mount Morris. She enjoyed leading youth programs, especially in conjunction with the Ogle County Youth Service Bureau and Operation Snowball.  She was office manager of ValCom/Excel Computer Center from 1985 until retiring in 1999. Jan also worked as a career advisor at BlackHawk College from 2001 to 2007.
Jan is survived by her husband, Jim, and their four children: Patricia Johnson (Gary) of Comanche, TX; Teresa Hagenbuch (Curt) of Roscoe, IL; James Strickland (Rose) of Muscatine, IA; and Maurine Eggers (Dale) of Janesville, WI.  She is also survived by seven grandchildren: Jim, Steve, Sara, Emma, Tim, Anne, and Jason, and six great-grandchildren: Haleigh, Benjamin, Alex, Sophia, Isobel, and Arthur, and also sisters: Barbara Int-Hout of Morris, IL and Diane (Daryl) Day of Atlanta, GA.
She was preceded in death by her mother, Maurine; father, John; and brother, Robert Brown.