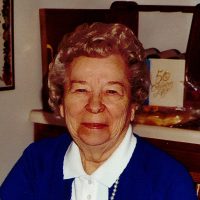 Jean S. England, age 96, of rural Maquon, Illinois died at 4:45 A.M. on Friday, August 23, 2019 at Seminary Manor in Galesburg, Illinois.
She was born on August 12, 1923 in Joy, Illinois, the daughter of Ray and Geneva (Agy) Seiver. She attended and graduated from Joy High School in Joy, Illinois. She then attended Western Illinois University in Macomb, Illinois, where she received a Bachelor Degree in Education. She married Harlan R. England on December 26, 1954 in rural Cameron, Illinois. He preceded her in death on September 24, 2013.
Left to cherish her memory are her children: Nancy England of Maquon, Illinois, Patricia England (and Michael McGraw) of Washington, Illinois, Daniel England of Maquon, Illinois, Linda England (and Jerry Crowder); three grandchildren: Andrew McGraw, Jennifer DeHeve, Matthew McGraw; and one great granddaughter: Brooklyn Chance. She was preceded in death by her parents, husband, one sister, Martha Diehl and one brother, Everett Seiver.
She taught grade school in Joy, Illinois for five years, and for an additional five years at Mary Ellen West Grade School, in Galesburg, Illinois. After their marriage, Harlan and Jean farmed outside Galesburg, and then, for more than 50 years, in rural Maquon.. She enjoyed reading, crocheting, sewing, cooking, gardening, and bird watching.
Funeral Services will be held at 2:00 P.M. on Wednesday, August 28, 2019 at the Hurd-Hendricks Funeral Homes & Crematory in Knoxville, Illinois. There will be no visitation. Rev. Dan Lybarger will officiate. Interment will be in the Knoxville Cemetery, Knoxville, Illinois. Memorials may be made to St Jude's Children's Research Hospital. On-line condolences and expressions of sympathy may be made through www.hurd-hendricksfuneralhome.com