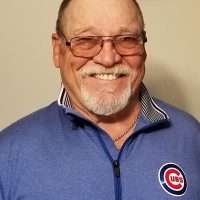 Milburn L. "Mel" Wilcoxen, 74, of Galesburg, Illinois died 2:25 p.m. Friday, August 23, 2019 at his home. He was born April 2, 1945 in Canton, Illinois to Hubert and Eileen (Bollinger) Wilcoxen.  He married Sandra K. Dunham, July 4, 1963.  He later married Diane Bennett, July 8, 2001 in Galesburg.  She survives.  Also surviving is his mother, Eileen Wilcoxen of Farmington, a son, Jeff (and Stephanie) Wilcoxen of Noblesville, Indiana; his daughter, Kim (and Matt) Bell of Huntsville, Alabama; a step son, Douglas Bradford of Galesburg and a step daughter, Jill Bradford of Galesburg; four grandchildren, Kirsten (and Mark) Guzman, Kurtis Stoneking, Ashtin (and Matt) Judd, and Ethan Wilcoxen; a step granddaughter, Lily Bradford and four great grandchildren.  He is preceded in death by his father, a brother, Allan Wilcoxen, and two sisters, Nadra Bannister and Vicki Davis.
Mel graduated from Farmington High School in 1963.  He worked for Gates Rubber Company in Galesburg for 34years and retired in 2002.  He later was a driver for Handivan in Galesburg for six years.  He was a member of the Covenant Church in Galesburg.  He was an avid bow hunter for several years and worked for Bear Archery Company.  Following the death of his brother, he gave up hunting and turned his interest to golfing and bowling.  In retirement, he lived to be on the golf course and took his clubs along on all vacation travels.  He was a member of the Senior bowling league in Galesburg.  He was a Chicago Bears and Chicago Cubs fan.  He loved to laugh and joke around and was always the life of the party.  He will be missed by many.
Visitation will be 5:00 to 7:00 p.m. Friday, August 30, 2019 at Hinchliff-Pearson-West Funeral Directors and Cremation Service Galesburg Chapel.  Funeral service will be 10:00 a.m. Saturday, August 31, 2019 at the Covenant Church in Galesburg.  Rev. Tom Ek will officiate.  Cremation will follow the funeral service.  Memorials may be made to the Covenant Church.  Online condolences may be made at www.h-p-w.com.