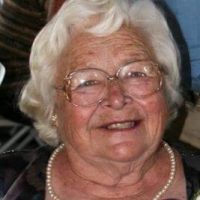 Mrs. Lillabelle Mae "Belle" Steck, 88, of Wataga, Illinois died 5:39 a.m. Sunday, August 25, 2019, at Hawthorne Inn, Galesburg. She was born June 7, 1931, in Highland, Illinois to Clyde and Mildred (Rogier) Lebegue.  She married Darrel E. Steck June 20, 1953, in Highland, Illinois.  He preceded her in death on October 18, 2017. Surviving are two sons, David (and Sharon) Steck of Galesburg, and Dean (and Janice) Steck of Laurel, Nebraska, a son-in-law, Lee (and Stephanie) Steele of Gilson, a sister, Elaine Goodwin of DeKalb, Illinois, a brother in law, Jerry Buzzard of Trenton, Illinois, a sister in law, Shirley Steck of Wataga, five grandchildren, Craig (and Stephanie) Steck, Dirk (and Lindsey) Steele, Darla (and Chris) Donovan, Crystal (and Ryan) Dunklau and Michelle (and Scott Montilla) Clague and eleven great-grandchildren.  She was preceded in death by her parents, her daughter, Debra Steele on November 1, 1991, a grandson, Cole Steele, two sisters, Myrtle Buzzard, and Gene and her husband Herb Luginbuhl, and a brother in law, John Goodwin.
Belle graduated from Highland High School in 1949 where she was the valedictorian.  She graduated from Illinois State University in 1953 with a home economics degree.  She was a member of the Kappa Omicron Phi home economics honor society and Kappa Delta Phi education society.  During her years in college, she was the head waitress at Fell Hall where she served the college presidents luncheons.  She was a member of First Baptist Church in Galesburg where she was a Deacon, Mission Board member and in charge of funeral luncheons.  She was also the White Cross chairman for her church.  She was a 4-H leader for Oneida, Mix-N-Fix and was a judge for local 4-H and county fair's exhibits.  She was inducted into the Illinois 4-H Foundation Hall of Fame in 2011.  She was a charter member of the Knox County Home Economics and a 50 plus year member of the Knox County Home Extension.  She was a member of the Tuscarora Study Club.  She enjoyed the outdoors which included helping on the farm, gardening, and yard care.  Belle was well known for her cinnamon rolls, jelly, pickles, and lima beans.  She loved attending her grandchildren's sporting events, wherein many cases, she had her own reserved seating.
Funeral service will be 10:00 a.m. Wednesday, August 28, 2019, at the First Baptist Church in Galesburg.  Rev. Bob Myers will officiate.  Burial will be in Wataga Cemetery, Wataga, Illinois.  Visitation will be 5:00 to 7:00 p.m. Tuesday, August 27, 2019, at Hinchliff-Pearson-West Funeral Directors and Cremation Service Galesburg Chapel.  Memorials may be made to First Baptist Church or the Knox County 4-H and Extension.  Online condolences may be made at www.h-p-w.com.