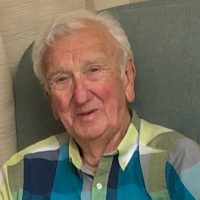 Lester W. Vicary went to meet his LORD, surrounded by his loving family and friends, in Galesburg, Illinois, on August 30, 2019.
Lester W. Vicary was born May 19, 1928, in Peoria, Illinois to Lester Vicary and Grace Jones Vicary. He married Vivian June Bradley in 1983 in Las Vegas, Nevada. He is survived by his wife, June, of forty years; daughter, Linda (Mark) Schuver, of Lafayette, Indiana; son, Lester W. Vicary Jr., of Peoria, Illinois; son, Clyde (Marion) Vicary of Anchorage, Alaska and stepson, Dale (Pam) McAllister, of Port St. Lucie, Florida. Les is also survived by seven grandchildren and five great-grandchildren. He was preceded in death by his parents, one sister, Marjorie Harris and one brother Larry Vicary.
Les graduated from Manuel High School and attended Bradley University. He served in the US Army 384th tank division and was honorably discharged in 1946. He worked 26 years for Consolidated Freightways of Peoria, Illinois, and retired in 1991.
After retirement, Les and June moved to their horse farm in the Williamsfield-Victoria, Illinois area. They bred and raised quarter horses for over 20 years. They also showed and raced their horses all over the United States.
Les was President of the Peoria Transportation Club, President of Peoria Motor Carriers Association and President of Richwoods Little League where he coached many years while the boys were growing up. Les was also Vice President of the Illinois Quarter Horse Association and served on their Board of Directors for many years, President of Victoria Methodist Church and on the Board of Directors of Victoria Library. Les was also very involved with The Oaks Community Church in Dahinda, Illinois, where he loved volunteering and working on many community projects with "the guys" during Mission Week. Les, as a member of The Oaks Community Church, volunteered in helping to rebuild after hurricane Katrina and the flooding of Burlington, Iowa; along with volunteering in numerous church functions and building projects. Les and June also enjoyed cooking and serving Thanksgiving dinner at the Galesburg Rescue Mission for many years and loved working in the Galesburg community as volunteers for St. Mary Hospital where Les received Volunteer of the Year Award in 2009.
A Memorial Service, for Les, will be 11:00 a.m. September 7, 2019, at The Oaks Community Church,1868 Congregation Road, Dahinda, Ilinois. Pastor Marty Briney will officiate. Memorials may be made in Lester's memory to his church or to the family. Arrangements have been entrusted to Watson Thomas Funeral Home and Crematory, Galesburg.