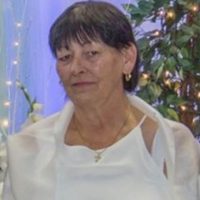 Melody K. Wells, age 58, of Maquon, Illinois, died on Monday, September 2, 2019, at the OSF Saint Francis Medical Center in Peoria, Illinois.
She was born on November 17, 1960, in Galesburg, Illinois, the daughter of Marvin and Margaret June (Burlile) Riggs. She was reared and educated in the Williamsfield and Yates City areas. On February 22, 1977, Melody was married to Johnny Wells in Galesburg.
Left to cherish Melody's memory is her loving husband, Johnny Wells of Maquon; their five children: James (and Laura) Wells of Knoxville, Illinois, David (and Cassie) Wells of San Diego, California, Mandy (and Brad Collins) Wells of Albany, Illinois, Eric (and Jeanie Leroy) Wells of Maquon, Tyler (and Hannah McCoy) Wells of Maquon; twelve grandchildren (and one on the way): Alexis Wells, Jade Wells, Logan McCallister, Allen Wells, Julissa Wells, Keaton McCallister, Quintin McCallister, Cody Wells, Kaydance McCallister, Kaylle Wells, Tenley Wells, Jeri Bantz; and four siblings: Linda (and Jesse) De La Cruz of Galesburg, Gloria (and Tuck) Phillips of Maquon, Mark Riggs of Knoxville, and Jeff Riggs of Tinley Park, Illinois. She was preceded in death by her parents; older sister; and two brothers.
Melody worked as a caregiver for most of her life. She was passionate about helping others and loved her family more than anything. Past times that she enjoyed were cheering for her grandchildren at their various sporting events and putting together and solving puzzles. She was an avid, lifelong Cardinals fan. Most of all, she was a wonderful, loving wife, mother, grandmother, sister, and friend who will be greatly missed by all who knew and loved her.
Visitation will be held on Thursday, September 5, 2019, from 4:00 P.M. to 7:00 P.M. at the Hurd-Hendricks Funeral Home & Crematory in Knoxville, Illinois. Funeral services will be held on Friday, September 6, 2019, at 11:00 A.M. at the funeral home. Interment will be at the Maquon Cemetery in Maquon. Memorial contributions may be made to the Melody Wells Benefit. Online condolences and expressions of sympathy may be made through www.hurd-hendricksfuneralhome.com.