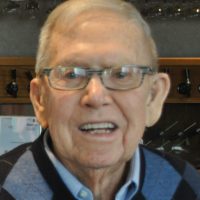 Clark "Lyonel" Nelson, 98, passed on August 28, 2019. Lyonel was the oldest child of Clark Ludwig Nelson and Minnie Evelyn (Swanson) Nelson. He was born in Victoria, IL on December 16, 1920. He never married.
Lyonel is survived by his brother, Charles B. Nelson of Santa Paula, CA; brother-in-law, Henry (Hank) Heffernan of Yakima, WA; and sister-in-law, Alice (Walker) Nelson of Salem, OR. Also surviving are many nieces, nephews and cousins. Preceding him in death were his parents; brother, Carroll Roger Nelson; and sister, Eleanor Heffernan.
Lyonel graduated from Victoria High School in 1938, as well as Cosmetology Vocational school in Chicago the same year. Lyonel served in the U.S. Navy Reserves for thirty-six months, including being a corpsman at Fleet Hospital 111 in Guam during World War II. Lyonel received an honorable discharge on January 26, 1946, being one of the few remaining veterans that served in World War II. A highlight of his life was to attend Knox College with the aid of the G. I. Bill, graduating in 1951. After Knox College, he owned and operated a beauty shop in Galesburg from 1952 to 1958. He then spent 12 years of his career working as a hair stylist in Elizabeth Arden's Flag Ship Fifth Avenue Salon in New York City. Lyonel later returned to Chicago to oversee his aging parents. In 2015, Lyonel moved to the Kensington of Galesburg to be closer to family and friends.
Lyonel leaves a memoir in a book titled "From Farm to Fifth Avenue." It is a legacy of his life and history for all to read.
A Celebration of Life Service will be held for Lyonel Nelson on September 27, 2019, beginning at 11:00 A.M. at the Victoria United Methodist Church. Memorials can be made to the Victoria United Methodist Church, P.O. Box 27, Victoria, IL 61485, or to the Knox College Scholarship Fund. Hurd-Hendricks Funeral Homes & Crematory is assisting the family. Online condolences and expressions of sympathy may be made through www.hurd-hendricksfuneralhome.com.