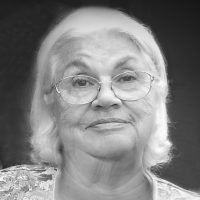 R. Joyce (Benbow) Thompson, formerly of Galesburg, Canton IL and Stockton Ca,  passed away Sunday, Sept 1. Seminary Manor, Galesburg, IL.
Joyce was born in Galesburg on March 14, 1933, the daughter of James Prestren and Flavia Mary (Leef) Benbow. Joyce married John Thompson of Alexis IL, in 1956.  Together they had 4 children. Joyce is survived by Lori (Randy) Thompson Mayberry; Mike (Mary) Thompson; Bill (Olga) Thompson; Kathy Thompson, and 4 Grandkids, Lindsey Fulton; Jalen Worley; Carl (Samatha) Thompson; Breanna (Michael) Johnson. Joyce was preceded in death by her parents and her brother James Benbow.  Joyce attended Corpus Christi high school in Galesburg. In 1953 she earned a bachelor degree in English from Marycrest College, Davenport Ia. Her teaching career began at Spoon River Valley High School in 1953 then onto Canton IL.  In 2001, Joyce retired from teaching at Heald Business College; Stockton, Ca.  Inspired by nature Joyce loved her pets. Throughout her life horses, dogs and cats were her constant joy as well her love to travel to the mountains out west. Her spiritual inspiration was as a devout Catholic and volunteering as an Extraordinary Eucharistic Minister. Joyce's big-heart and epigrammatic humor defined her everyday interactions with her family, friends, students, and strangers.
Rosary prayers for Joyce will begin at 4 p.m. followed by Visitation from 5 to 7 p.m. Sunday, Sept 15th at Watson-Thomas Funeral Home and Crematory, Galesburg.  A funeral mass will be Monday, Sept. 16th, 10 a.m., at St. Theresa Catholic Church, N. Main St. Alexis, IL.  Rev. Msgr. Thomas Mack will officiate. Burial will follow in St. Joseph's Cemetery, Galesburg then a reception at The Thomas Legacy Center at Watson Thomas Funeral Home.
Online expressions of sympathy may be made to the family at www.watsonthomas.com Funeral Home.