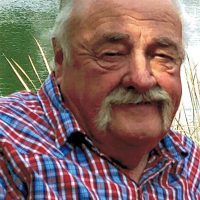 Jack L. "Cactus" Braten, Sr., age 72, of Maquon, Illinois, died at 5:40 P.M. on Saturday, September 7, 2019 at his home, surrounded by his loved ones.
On Friday, July 25, 1947, Jack was born in Peoria, Illinois to Frank and Neva (Robinson) Braten. He grew up in the Peoria area, graduating from Manual High School. On August 28, 1998, Jack was married to the love of his life, Claire (Johann) Jones, in Galesburg, Illinois.
Left to cherish Jack's memory is his loving wife, Claire Braten of Maquon; their five children: Angela Braten of Maquon, Jack L. "Bubba" (and Lori) Braten, Jr., of Saint Augustine, Illinois, Tonya (and Jim) Donsbach of Maquon, Craig (and Brenda) Jones of Maquon, Kenny (and Danielle) Jones of Middle Grove, Illinois; fourteen grandchildren; and eight great-grandchildren. He was preceded in death by his parents.
Jack worked as a truck driver for Inness R & R of Galesburg, Collopy Trucking of Dahinda, and Lane Transfer of Farmington, Illinois for many years. He loved his family and was happiest when he was spending quality time with them. There was nothing more important to him than his family; he was a devoted and loving husband, father, grandfather, and great-grandfather and will be greatly missed.
Cremation rites will be accorded. A Celebration of Life will be held on Sunday, September 15, 2019 from 1:00 P.M. to 4:00 P.M. in the Fellowship Hall of the Maquon United Methodist Church in Maquon, Illinois. Memorial contributions may be made to the Maquon Fire Department, the Maquon Public Library, or the Maquon United Methodist Church. Hurd-Hendricks Funeral Home & Crematory in Knoxville, Illinois is assisting the family. Online condolences and expressions of sympathy may be made through www.hurd-hendricksfuneralhome.com.