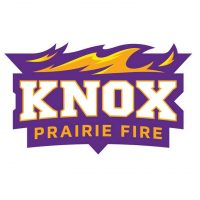 The Prairie Fire football game scheduled for October 19 at home against Grinnell College has been canceled and declared a no contest. The Knox College football team will instead have a bye week.
Grinnell College announced on October 1 its decision to withdraw the football team from competitive play to protect the health and safety of its student-athletes. Team members have received numerous injuries this season, leaving 28 players on the 39-member roster healthy and qualified for play in the Midwest Conference.
"Our football team will prepare for the remainder of the season and treat the new bye week like any other," said Knox College Director of Athletics Daniella Irle. "The athletic department will turn its attention to our home soccer games during Family and Friends Weekend. Both soccer teams will also be celebrating senior day."
The Prairie Fire football team has started the season 2-1. They are coming off a 45-21 victory over Beloit on September 28. Earlier in the season, Knox defeated Iowa Wesleyan 44-0 for their largest shutout since 1970.