7am News, Sports and Obits
Latest WGIL news
Click to play or
Right click and "Save Target As" to download
©2011 Galesburg Broadcasting Co.
E-mail inquiries and press releases to
news@wgil.com
Dorothea Tanning Passes Away
A world renown artist and Galesburg native died of natural causes inside her New York City home at the age of 101 Tuesday.

Dothea Tanning attended Knox College, and received an honorary degree in 1988. It was then Knox Professor Robin Metz met her for the first time.

According to Metz, she achieved on a global scale in so many fields. He tells WGIL that's why he hopes Tanning's 'Knox-Galesburg' connection is continuously taught.

"Painting and sculpture and her prose books and her poetry, and her design for theatre and for dance. Her fame in any one of those fields would have been exceptional," Metz said. "The fact that she had worldwide acclaim in that whole variety of endeavors is really astonishing."

Tanning was honored last summer in Galesburg with a festival commemorating her works. Plans have stalled in making it an annual event, but Metz feels those conversations will come to life again.

Even for Tanning's old age, the professor says she was energetic, generous, and still, inspiring.

A plaque dedicated to Tanning can be found outside her childhood home on Hawkinson Street.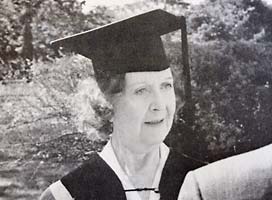 (Dorothea Tanning in 1988. Photo courtesy Knox College.)
02 03 12 by Newsroom
Click here for the WGIL News Archive
The following provision applies to all visitors (which shall include persons and representatives of legal entities, whether such representatives are persons or digital engines of a kind that crawls, indexes, scrapes, copies, stores or transmits digital content). By accessing this Web site or digital service, you specifically acknowledge and agree that: (i) Associated Press text, photo, graphic, audio and/or video material shall not be published, broadcast, rewritten for broadcast or publication or redistributed directly or indirectly in any medium; (ii) No Associated Press materials nor any portion thereof may be stored in a computer except for personal and non-commercial use; (iii) The Associated Press will not be held liable for any delays, inaccuracies, errors or omissions therefrom or in the transmission or delivery of all or any part thereof or for any damages arising from any of the foregoing; (iv) The Associated Press is an intended third party beneficiary of these terms and conditions and it may exercise all rights and remedies available to it; and (v) The Associated Press reserves the right to audit possible unauthorized commercial use of AP materials or any portion thereof at any time.