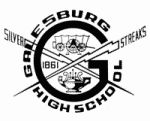 The members of the 2014 class of the Galesburg High School Athletic Hall of Fame were inducted Saturday afternoon.
The class includes: Robb Long from the class of 1980; Jeremy Pickrel from the class of 2001; Kyle Hunter from the class of 2008; and Greg Whittle from the class of 2009. This year's "veterans class" includes: Jack Whitman from 1949; Duane White from 1958; and Roland McDougald from 1968. The "friend of GHS athletics" inductee will be former WGIL Station Manager Roger Coleman of Galesburg.
Plus, the Hall of Fame committee voted to have a one-time induction for all the remaining GHS teams that have earned state trophies, including: the 1912 and 1931 boys basketball teams; the 1971 boys golf team; the 2000 and 2001 girls basketball teams; and the 1971 boys golf team.
The induction ceremony took place in the GHS Auditorium.  You can listen to the ceremony in its entirety here:
Tags: