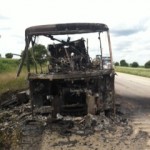 A Winnebago motor home that was traveling Eastbound on I-74 near mile marker 60 is all but a complete loss. The owner, a Wisconsin man travelling through the area, told WGIL that he believes a gas leak leading to the engine may have caused the incident.
The man reported seeing flames spark in the "living room area," directly behind his driver's seat. Illinois State Police have confirmed that he was the only individual aboard at that no one was injured. Police also indicated that the vehicle was brand new.
Authorities responded to the scene around 10:23 a.m. this morning. The Knoxville Fire Department extinguished the flames, and traffic was backed up for miles because of the accident.
No official cause of the fire has been determined at this time. The self propelled motor home was carrying a white Grand Marquis on a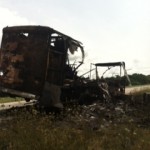 small trailer. No damage was done to that vehicle.

Tags: