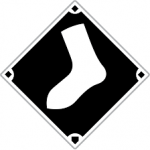 CHICAGO (AP) — Eric Hosmer hit a go-ahead two-run homer in the top of the 10th inning, and the Kansas City Royals beat the Chicago White Sox 5-3 on Wednesday night to clinch home-field advantage in an AL Division Series.
Ben Zobrist singled with one out, and Hosmer drove a pitch from David Robertson (6-5) into the bullpen in right field to give the Royals the lead. For Hosmer, it was his 18th homer of the season.
Alex Gordon and Mike Moustakas also homered for Kansas City, which had already clinched the AL Central title. They will host the first two games of their ALDS, and a Game 5 if necessary.
Combined with Toronto splitting its doubleheader in Baltimore, the Royals pulled within a game of the Blue Jays for home-field advantage throughout the AL playoffs. Toronto did win the season series, giving it the tiebreaker over the Royals.