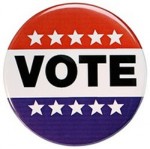 Elisha French won a contest of two write-in candidates to become Galesburg's next and perhaps last treasurer.
The position had already been reduced by the Galesburg City Council to part-time with a reduced salary of $12,500 and French campaigned to eliminate waste in that office by axing it.
He told WGIL most of the financial reporting to the state is already done by Finance Director Gloria Osborn and the treasurer position is redundant.
French was happy with yesterday's result considering that voters had to not just support him but remember his name to write it on the ballot.
He says that the position could be done away with a city council vote to combine the position with the finance director or take it to a referendum to have voters decide.
"Either one I'm fine with. Just let's get that moving and make that happen before we get to crunch time in four years."
There has some been some dispute over the legality of eliminating the treasurer without a voter referendum.
The new treasurer believes that about $20,000 could be saved annually by the elimination.
In the meantime French says he'll execute all the duties prescribed to the office.