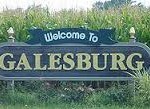 Local taxpayers in Galesburg could see savings in the form of solar energy due to tax credits from the state of Illinois. 
After months of conversations Mayor John Pritchard says that the city administration is "fiercely investigating" developing a solar electrical project.
Last year Illinois created incentives and while Pritchard says those rules are being rewritten the city is making preparations to receive proposals.
"Frankly I see what might happen is Galesburg could reduce its expenses by several hundreds of thousands dollars and any investment would be done by the private sector with no cost to the Galesburg taxpayer," Pritchard says.
The mayor calls it a "no-brainer."
At city council meetings the largest savings that have been mention center around the Oquawka water treatment facility.
However, Pritchard has also previously mentioned developing plans to provide solar energy to non-city owned facilities at Knox College and District 205.
District 205 Superintendent John Asplund, when he was the head of the Farmington District, secured a grant from the Clean Energy Foundation of Illinois to purchase and install solar panels at little cost to the district.
Shortly after he was hired in Galesburg he said that he would be looking into green energy saving initiatives that would save the district money.