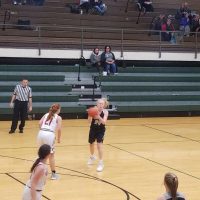 The Galesburg Silver Streaks  are now 9-5, after they opened  their play at the Mattoon Holiday Tournament Thursday against the Vandalia Vandals and got a win, 64-40.
A 21-0 run starting in the second quarter propelled the Streaks to the win.  They put three players in double figures.:  Riley Jenkins with 14 points including four three-pointers; Abby Endthoff with 13 points; and Andrea Sampson with 11 points, including three three-pointers.  They hit nine three-pointers for the game, and only turned the ball over nine times.  They forced 19 Vandalia turnovers, and no Vandalia ended the game in double-figures.
The Streaks out-rebounded Vandalia 34-21, including 18-5 on the offensive side.
Chelsea Stevenson had five points, six rebounds, six assists, and three steals; and Abby Endthoff had 13 points, four rebounds, and an assist, and they were named our Dave's Autobody Crunch Time Co-Players of the Game.
The Streaks play at 4:30pm Thursday in the tournament against the Olney Tigers.  You can hear that game on WGIL and WGIL.com.
Miss the game?  Listen to it here!
 

Tags: