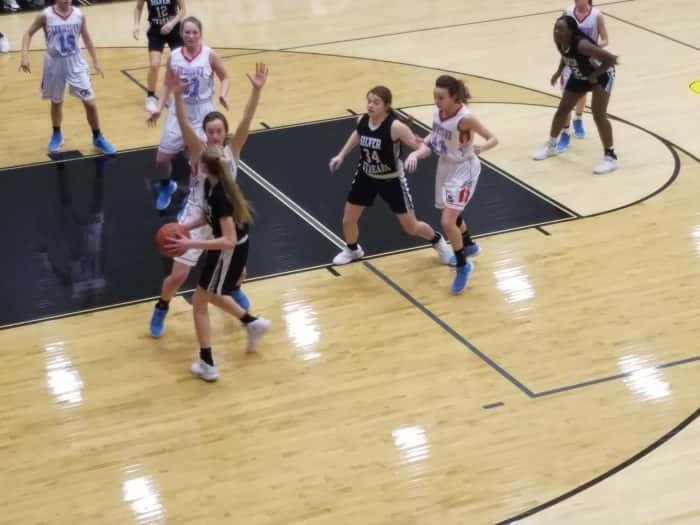 Here's a recap of the game from WGIL's Tom Meredith:
Unexpectedly, the Galesburg girls basketball team ended up playing back-to-back games in the Galesburg Shoot-Out on Saturday (1/26/19). One of the teams was unable to make it at the last minute, so the Silver Streaks played the 3rd ranked team in Class 1A, the Lewistown Indians, who were already there and ready to play following the 1st Streaks game vs Bloomington Central Catholic.
The GHS girls ended up losing to Lewistown, 43-32. The Streaks got off to a decent start early, but trailed at the end of the 1st quarter, 11-7. From there they were out-scored by the Indians for the majority of the game, except for the 4th quarter. But during the final quarter, Lewistown was kind of just holding the ball and not going to the basket much.
Lewistown hit seven 3-pointers in the 1st half and none in the 2nd half, but they were 7 for 13 in the 1st half and was what really separated them from the Streaks. GHS really didn't shoot the ball well, six 3-pointers in the game, but o for 3 from the free-throw line and just 13 for 37 from the field.
Andrea Sampson led the way with 8 points, including a couple of 3-pointers. Our Dave's Autobody Crunch-Time Player of the Game was Kelsi Legge. She had 5 points, 5 rebounds, 2 assists, and really was key in a run that the Streaks made at the start of the 2nd half.
GHS girls Silver Streaks are now 16-11 on the season. Lewistown is now 26-1.
The Silver Streaks play next on Monday night (1/28/19) as they take on Alleman in a Western Big 6 Conference game that was rescheduled from January 24. Live coverage begins with the pregame at 6:06 PM on 93.7 FM and 1400 AM, WGIL.
Missed the game? Listen to it in its entirety here:
Tags: