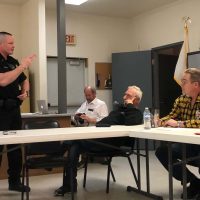 The Village of East Galesburg may be getting a police dog to help patrol city streets for a nominal cost, yet some residents are still unhappy.Village Police Chief Jack Harlan's day job is as a Knox County Sheriff's Deputy handling a K-9.
In order to have the K-9 with him when he patrols in East Galesburg, he's asking trustees for $3,500 to install a required kennel in a squad car that he himself donated.
"I've stated that if the village is willing to go ahead and outfit the car, I'll pay back every cent just with the understanding that when I go, the car goes with me because I have paid for it," Harlan says.
Harlan seems to have made his intentions clear in report to the police and fire committee but that information was apparently not given to all board members.
Trustees Sandi and Daryl Corbin were highly critical that they weren't made aware.
It should be noted that Harlan's reports were published on a board in the Village hall.
Detective Lane Mings with Galesburg Police was at the meeting.
Mings has been on GPD's canine unit for nearly a decade and he says for what Harlan's put in already, East Galesburg is getting a "huge tool for a very minor cost."
The Police and Fire committee is said to be working on a policy for an East Galesburg K-9 unit that should come to the full board at their next meeting.