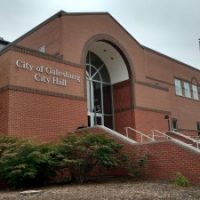 Steven "Champ" Coleman of Galesburg filed suit in federal court Wednesday against the City of Galesburg and four Galesburg police officers.
Coleman's suit in U.S. District Court for the Central District of Illinois in Rock Island, claims that officers violated his 4th Amendment rights to be free from unreasonable searches and excessive force.
He was arrested on June 19, 2018 inside the building he operated at one time as Uptown Bar and Grill charged with aggravated battery to a police officer.
Knox County prosecutors declined to prosecute the case further after a preliminary hearing.
Video produced by Coleman and published by the Register Mail, shows Officer Alison Buccalo speaking with someone to be his daughter.
Coleman is seen approaching Buccalo and looks to be grabbing for one of her hands, and when she turns, she's face to face with Coleman.Officers Jacob Thompson and Jared Tapscott, seeing the confrontation pushed Coleman into a pool table and subsequently Tapscott deployed a taser.
Coleman's suit names both the city and Buccalo, Tapscott, Thompson and Officer Jake Medhurst as defendants.
The suit asserts that Galesburg Police singled out Coleman unfairly while he ran Uptown Bar, in the form of numerous ordinance violations.
It implies that Coleman's mistreatment stems from when he was working in the evidence room of the Galesburg Public Safety Building in 2006, saying he witnessed an officer taking drugs.